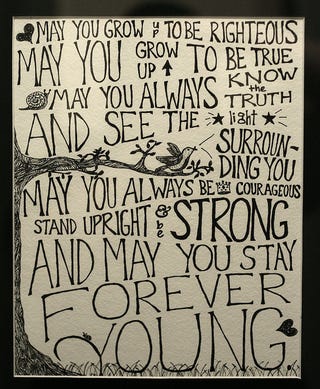 I'm not really religious, but I grew up going to various Christian schools, and I appreciated those hymns that asked for nice things to happen to people. No matter how good you've got it, we could all do with nice things.
The mixed tape challenge on GT had me digging into my music library - the tracks on my computer - rather than my Pandora likes, which are far more recent. I came across Bob Dylan early on, and I knew I had to include a track. As I hinted in my explanation post, I grew up in a household where my parents listened to very different music from me. In their quest to find Western guitarists for me that they could tolerate, my dad stumbled across some 60s music, and tried to get me hooked on that. There was a lot of Pete Seeger, and that worked for awhile. But then I started getting into rock, and my mom started getting migraines. So my dad bought me Bob Dylan's Biograph, which has both rock and folk.
I included "Subterranean Homesick Blues," which I think I listened to on the flight to India one summer, on my list, but that led me to re-listen to the rest of the album today. And that is how I rediscovered Bob Dylan's "Forever Young." Thanks to summer camp, the song with the title that I usually remember is Alphaville's, which is very different. Apparently, Bob Dylan recorded two versions. I like the one on Biograph best, but it is impossible to find, hence the embed of a single-item playlist from Grooveshark:

What other songs by popular artists do you find inspiring and hopeful, and well, like a benediction?
P.S. If you're having trouble finding Youtube videos, log in to Grooveshark, create a single-item playlist, click share, click embed for the HTML code, and paste it here in HTML mode.
Image via flickr