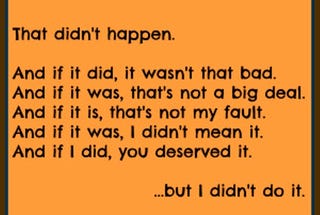 State of the Gobsmacked: Some version of this happens practically every year so I have to get over being surprised that it keeps happening or I'll blow out an adrenal gland eventually. At the same time, with so many particularly egregious recent examples of the related screaming double standard hammering the culture, with the proverbial fish-stink starting at its head, I can't stop myself from drawing the reflexively optimistic conclusion that said stinking can only get so bad and so loud before the culture at large is required to finally wrap the toxicity and take it outside to the trash.
(We've certainly seen those societal norms turned inside out and on their heads lately, haven't we? Could anybody make sense of Ivanka Trump's doublespeak as she nouned and verbed about "domestic violence being something we … have to talk about" even as she claims she "believes her father as a daughter" and that same father's sexual harassment accusers number in the double digits, and as she herself flies to the Olympics in Korea on taxpayer money and tries to talk U.S. sanctions on North Korea with the South Korean president as she's near-contemporaneously being stripped of her top secret security clearance? Don't even get me started on Don Junior bopping around India trying to sell space in Trump condos while simultaneously offering Indo-Pacific foreign policy talks. We still don't really know what that "fireside chat" ended up being about.)
The "classical arts patron"-types tend to habitually look down their noses (or at least raise an eyebrow) each time a Trump-advisor-related or Hollywood- or professional-sport- (or Olympic sport) -related gush of previously buried or swept aside or overlooked allegations comes flooding out.
And yet.
At the same time, the supposed cultural elite – often also culled only from the "finest families" (the only ones who can afford to take the full-time unpaid internships & below-minimum-wage entry-level opportunities framed as "the only way to break in" and otherwise constituting longtime historical barriers to entry) are out-and-out refusing to watch nominated films, and in some cases refusing to even nominate films to being with, in cases where the principal creative decisionmakers are nonwhite.

I'm familiar with the wordless insistence at certain levels that "if we ignore this thing we don't like, it'll just go away" – regardless of whether the thing is something "unseemly" (read: destructive) you don't want to acknowledge that "your people" do, or it's something exceptional you're not able to claim credit for because the principals who produced it are members of an outgroup you refuse to acknowledge are consistently capable of producing brilliant work. I know it's part of a behavior pattern that's designed to maintain a certain status level for specific individuals as well as a particular supremacist hierarchy.

But marginalizing, restrictive, non-inclusive, bullying, retrograde behavior, whether aggressive-aggressive (as in the case of active harassment allegations) or passive-aggressive (I clearly cannot get over my absolute dumbfoundedness at the Academy of Motion Picture Arts & Sciences members who literally refused to even watch a film that was nominated in more than one major category – talk about out-and-out failure when #YouOnlyHadOneJob) is far from being restricted to people from groups whom anyone who categorizes themselves even subconsciously as "patrician" would deem to be of a "different class".

On the contrary, now that more and more of that type of behavior is being exposed, it is really starting to seem more and more like that type of behavior is almost concentrated in a certain type of person, a certain class of people, with a disproportionate share of societal power, resources, and influence as compared either to their contributed achievements or to their population density, who are determined to hang onto that power at any cost, regardless of the damage – to a functional society, to an elevated theory of mind, to their own reputations, or to anything else.

To put it directly, inapposite to the perpetual understatement some aspirational-ruling-class types prefer – which, Cecila Tan argues better than I, is an attempt to actively practice implicit bias in and of itself – you can't pretend a terrible, destructive habitual abuse of power is only practiced by people whom you don't like, and you also can't pretend the achievement of transcendent excellence is only reserved for people whose appearance and affect you do like.
I mean – you can, but your attempts at continuation of a functional society will eventually implode if you do, and also, you'll look incredibly silly when you're busted in public doing it. And then lots and lots of people might just reach the conclusion that you don't really deserve to be in charge anymore.
https://uncannymagazine.com/article/let-me-tell-you/
ETA: