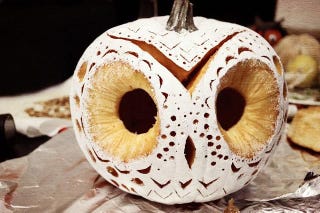 At backtalk, the bird trend is never over and for this week, we will cover a few fun projects to make your domicile 100% more whimsical and birdier.
The above pumpkin is from A Modern Dame's blogspot which seems to be gone to the ages. Martha Stewart's website has more easy Owl pumpkins for Halloween if you need step by step instructions but I had to include the above pumpkin. It is almost as beautiful as the real thing.

You can make a little bird to help you out every day. Originated on Joyzz.com with some written instructions. Found on CraftsbyAmanda and Fontenelle Forest, which has lots of animal themed crafts.

You could play with your food, like Anna Nevil and Agustín Nieto, who did not just illustrate lovely birds out of food but also European capitals. The results can be found here, on HQF Food Photography.
Or build a fantastic bird out of paper like acclaimed paper artist, Yulia Brodskaya. If you'd like to try quilling, here is a basic guide:
You could make a lovely feeder to bring all your birds to your garden. This teacup one is my absolute favorite. You can probably find some really pretty teacups at a flea market or tag sale or from your cupboard.
Or maybe you want to make your own DIY Bird Wall Decal like Joy Kang?

You could build your own bird out of the pictures of other birds like Anne Lemanski did.

Or maybe you just want to keep it simpler, like on Charcoal and Crayons, which gives you all the steps to make your own on their site.