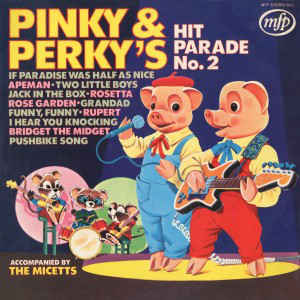 Don't worry the pop pickin' pigs Pinky and Perky only ever made it to No 47. On reflection I'm disappointed by that. The porkers didn't bring home the bacon on this occasion. Still, they did better than Topo Gigio. Anyway. This is a small selection of songs that you might think were No 1, but they were all No 2s. Having said that many will still stick in the mind when the songs that beat them are long forgotten. I've used UK charts but there is a there is a trans-Atlantic ringer in there. See if you can spot it.
Take them way ...
David Bowie - The Jean Genie
Bowie was on a roll with Ziggy Stardust but even he had to step back for pint-sized powerhous Little Jimmy Osmond sing about his Long-Haired Lover From Liverpool.
The Kinks - Waterloo Sunset
The Kinks portrait of life by The Thames Waterloo Sunset was pipped at the post by by The Tremeloes Silence is Golden.
a-Ha - Take On Me
The Norwegian group a-Ha caused a stir with a snazzy video but Jennifer Rush kept them off the top spot with The Power of Love.
The Stranglers - Golden Brown
This has all the the twos. In 1982, The Stranglers released Golden Brown as a single in the UK. It had a US release the year before. There were no great expectations but BBC Radio 2 decided to make it their single of the week. Suddenly the punk bad boys were the in-thing with middle aged listeners who took the song to their hearts. However, it couldn't beat The Jam who took the No 1 spot with A Town Called Malice.
Laurie Anderson - O Superman
Laurie Anderson's O Superman was a surprise hit when it spent two weeks at No 2, but was held at bay by Dave Stewart and Barbra Gaskin who had reworked It's My Party.
Yazoo - Only You
Now this was a No 1 for The Flying Pickets, but Vince Clarke and Alison "Alf Moyet's original version only made it to No 2. It was beaten down by Nicole singing A Little Peace.
The Troggs - Wild Thing
Had to get a Presley song in here. The Troggs hit No 2 with Wild Thing in May 1966 but The Rolling Stones went in at No 1 with Paint It Black.
Add your own below.