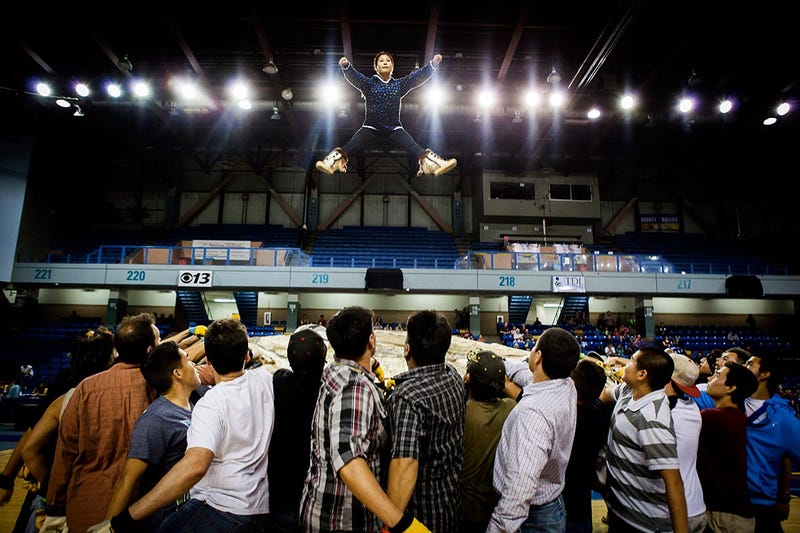 Al Jazeera America did a great piece on the World Eskimo-Indian Olympics which, having never been to Alaska I did not know existed. Not only is it on significance of the games and the different events (all of which are based on survival or traditional games and look like they would be awesome to watch) but it's also taking stock of where the cultural flux currently being experienced by Alaska/Canada's Native population. Here's an excerpt:
Ask WEIO athletes where they are from and the answer is always two parts. First is the name of a village far from the road system, usually on the coast or along an interior Alaska river. Chevak. Galena. Rampart. Deering. That is where family is, where subsistence hunting, fishing and gathering take place, where Native languages are spoken, where traditional games are practiced.

Next comes where the athlete lives now. More often than not, it is one of Alaska's larger cities, like Anchorage or Fairbanks. The urban/rural push-pull is a constant in Alaska. Culture and family draw people to the villages, but better jobs and education in the cities and, sometimes, social dysfunction and poverty in the villages, push people out.

The games, which celebrate skills needed to live a rural life, are in flux.

An estimated 70 percent of athletes now come from cities, Johnston said. The cost of travel to the games from villages can be high, making it hard for rural participants, she said.
It's a really interesting read and the photos are gorgeous. I wanna go.