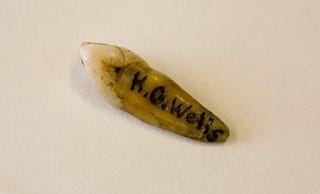 One final time travel piece. Unfortunately, I haven't been able to locate my photograph, but it was a snap of HG Wells tooth. A rather large fang, worthy of a Moorlock, had been extracted from the author of The Time Machine and the dentist kept it.
The tooth became an exhibit in Bromley Museum, which was in Orpington, Kent. The building was a 13th Century house which had at the one time been the home of an ancestor of Princess Diana (before he lost an argument with Oliver Cromwell). For most of my life the medieval building was used as a museum, while a 20th Century extension held the local library. The Moorlocks run the local council, so the Museum is now closed and I don't know what they plan on doing with the site.
Anyway, back in 2010, along with the usual displays of ancient fire engine, bronze age skeleton, and roman relics, Bromley Museum staged an exhibition detailing the life of HG Wells and other local notables such as Charles Darwin, Enid Blyton and David Bowie.
And there was this tooth, pulled from the author's gob. It also had something detailing how much Wells had paid to have it yanked out.
Some months later, the tooth was on display at Bromley Library, which is in Bomley, Kent, a hundred yards or so from HG Wells birthplace. A Primark store is now on the site of his father's shop, though if I see any photos from the period it always looks to me as if it was next to the butchers across the road. Actually, I think the butcher has gone as well now. 
I believe the museum has been relocated to the old RAF Chapel at Biggin Hill. Not without controversy. I don't know if the tooth is on display but the new location is near the famous Battle of Britain airbase, it's where James Doohan was stationed in WWII and it features in the Da Vinci Code. Charles Darwin's home is nearby in Down. Also, the local library has a decent selection of Doctor Who books and please note, the library is in the swimming pool.