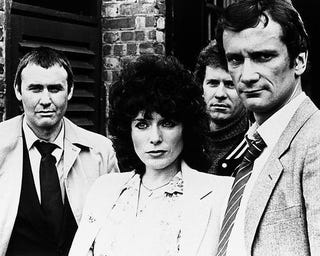 There's a rerun of The Gentle Touch currently airing on archive channel Talking Pictures TV. It's an Eighties ITV show, specifically London Weekend Television, shot on video, which regularly pulled in 18 million viewers in a Friday night slot when originally broadcast. It later shifted to Saturday.
The Gentle Touch made a household name out of its star, Jill Gascoine (or Mrs Alfred Molina if you prefer) who played Detective Inspector Maggie Forbes. Police procedure mixed with home life and a variety of social issues were covered with a stark bluntness that lacked the pace and violence of The Sweeney, but still achieved a chilling effectiveness. Created by Terrence Feely, The Gentle Touch is also widely held as being the first British cop series with a female protagonist, beating the BBC's Juliet Bravo by four months.
In the first episode we are introduced to Maggie, her husband Ray (Leslie Schofield), and son Steve (Nigel Rathbone). It's a snappy morning and they are all getting on each other's nerves. We learn Ray is also a police officer, a humble uniformed constable, possibly uncomfortable with his wife's success. He says no, but disatisfied with "the job" intends to quit. Except this line of tension isn't going to roll because Ray is killed, shot dead when he interrupts a robbery.

Widowed, Maggie does some soul-searching about whether she should quit and her teenage son encourages her to stay on. She's done to much to give up now and she would never regain any ground lost if she tried to make a return after Steve finishes school. The scene where they discusses these matters is poignant but kind of weird in the context of what happens five years later.
We learn that at work Maggie is highly regarded by her boss Detective Chief Inspector Bill Russell (William Marlowe) and two loyal sidekicks Detective Sergeant Jake Barrett (Paul Moriarty) and Detective Sergeant Jimmy Fenton ( a pre-Casualty Derek Thompson) though Detective Inspector Bob Croft (Brian Gwaspari) has an irrational dislike of women in the workplace, or maybe he just covets her job. Croft is a sour little bunny.
By the end of episode two, Maggie has the evidence to convict her husband's killer and has a revived commitment to her work. The episodes I've watched so far are a product of their time. They have a hangover feel from the previous decade even. An early episode, Shock, gives Floella Benjamin (Baroness Benjamin of Beckenham) space to strut her stuff as a high class hooker pulling Croft's strings. Actually it might be something else she is pulling. Playaway was never like that!
Over five series (56 episodes) of The Gentle Touch, Maggie juggles single parenthood, dealing with an aging father, with police work where she encounters sexism, racism, homophobia, domestic violence, mental health and euthanasia.
You could argue that the show was influential in some unexpected ways. As the BFI revealed:
In the episode Something Blue Forbes tries to speak candidly to a prostitute, saying "We really should talk, woman to woman - my name is Maggie". However the other actress (Lynda Marchal) and Gascoine kept corpsing when it came for the riposte, "All right, call me Juanita." Marchal felt she could write more believable dialogue herself and, encouraged by Gascoine, went on to prove this spectacularly, using the pseudonym Lynda La Plante.
La Plante went on to write Prime Suspect, Widows and The Governor.
But we hadn't seen the last of Maggie Forbes when the curtain fell of The Gentle Touch in 1985. Terrence Feeley wanted the character and Gascoine for his new creation, C.A.T.S. Eyes. Social realism took a dive through an Avengers shaped window as Maggie camped up for three seasons of sub-par spy-fi.
On the face of it, Maggie has left the Police to join an all female private investigation firm in Kent. In reality, they are part of the Home Office, Covert Activities Thames Section (CATS). The series was made for ITV by TVS (Television South) and shot in Chatham Docks which was lying fallow at the time. Other scenes were filmed in Maidstone and other Medway towns.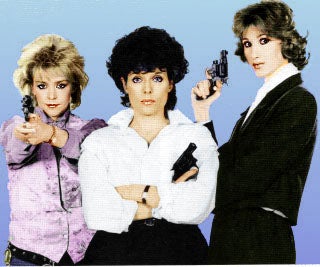 Maggie's son Steve has conveniently pushed off to Australia allowing her the freedom to team up with Pru Steadfast (Rosalyn Landor), Frederica 'Fred' Smith (Lesley Ash, who had appeared as a different character in The Gentle Touch) and Nigel Beaumont (Don Warrington), the man from the ministry who oversaw their actions. Tessa Robinson (Tracy Louise Ward) came on board in season two after they dropped the Steadfast character, possibly because she was perceived as being too Thatcheresque
I have to confess that I don't have fond memories of C.A.T.S Eyes. Maybe I will revise that view if Talking Pictures TV follows through from The Gentle Touch.