WINTER 2019 UPDATE: I've finally run across this great little film streaming somewhere. On tubi. I've been taking advantage of Roku's general search feature a lot these days and happened across Songs She Wrote.
It's a wonderfully, dark and weird little film. If you're looking for something to watch on this cold winter night (or warm summer evening or whatever), check this out. I can't say for sure if it streams outside of the US as "people living in UK, Canada, Italy, Australia, or Germany get restricted access to Tubi's library." but there's always VPN.

************************************************************
While there is a trailer for this glorious film that you can find below, I'm starting this review off with one of the movie's songs because it not only perfectly captures the tone of the film, it has also become my personal theme song. I find myself regularly singing it at work - quietly - because I prefer my co-workers didn't hear me singing about setting the (many) people I'm sick of on fire.
In his work as a playwright, screenwriter, and filmmaker, Vancouver's Kris Elgstrand has wittily and often hilariously chronicled the foibles of bohemians. Following his collaboration with Dylan Akio Smith on 2009's Doppelgänger Paul, Elgstrand now makes his solo directorial debut with Songs She Wrote About People She Knows, which takes caustic aim at art therapy, the contemporary music scene, and the suppressed artistic yearnings of middle managers — which, it turns out, are better left suppressed.
Made for maybe a buck and a quarter (Canadian so it's actually more like a looney and some change), this is the kind of movie I go to film festivals to discover. It is fuckin' hilarious. I enjoyed Songs She Wrote so much that I would not only pay to see it again given the chance, I will also happily buy the DVD should one ever come out. Actually, I'll probably buy a second copy to give my brother who has a wonderfully sick sense of humor similar to mine.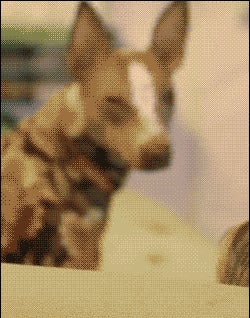 Having spent a few months on this board, I can say with confidence this is a Backtalker kind of movie. If you get the chance, see Songs She Wrote. If I find it's being released in one form or another, I will absolutely (over)share that information because this is the sort of film we need more of in this crazy often depressing world of ours.
And on that happy note, my TIFF 2014 film reviews are done. Thanks to everyone who make it this far through my occasionally insightful yet often dull prose. An extra special thanks to WereGrandad for my new favorite gif. I could watch it for hours.