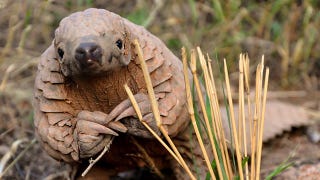 Honey Bun the Pangolin is the unlikely star of the latest episode of Natural World which throws a spotlight on The World's Most Wanted Animal. Sir David Attenborough narrates this documentary about these cutest of creatures, much misunderstood and under peril from the greatest of predators, mankind.
Pangolins are the only truly scaly mammal and those otherwise protective scales are an ingredient in traditional medicines. This makes them a target for an illegal industry larger than the ivory trade. It has driven the Asian pangolin to near extinction and hunters have turned their gaze to Africa as an alternate source.
The documentary has some heartbreaking scenes of how pangolins are treated by poachers and their customers.