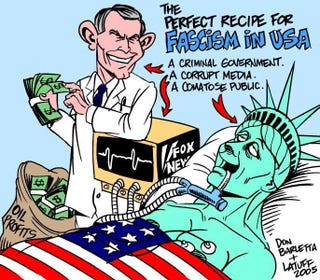 We've really got to talk about the MSM Rapeugnican CEOs and their repeated giving TRE45ON a multi-billion-dollar platform to tell uncorroborated and unchallenged lies, y'all.
If for no other reason, when TRE45ON talks about sh*thole countries, anybody who's ever wondered what the end result of centuries of colonialism and imperialism might be if left unchecked has to wonder how those countries got that way in the first place.
Especially when TRE45ON and his lackeys in what's left of the State Department have Venezuela and Iran – countries full of brown people – in their sights as targets to start "distracting" conflicts in an effort to deflect from their continued and abject failures of national leadership (and perhaps even use that as some sort of an excuse to try to suspend the midterms).
Anybody who's read Timothy Snyder knows how this goes.