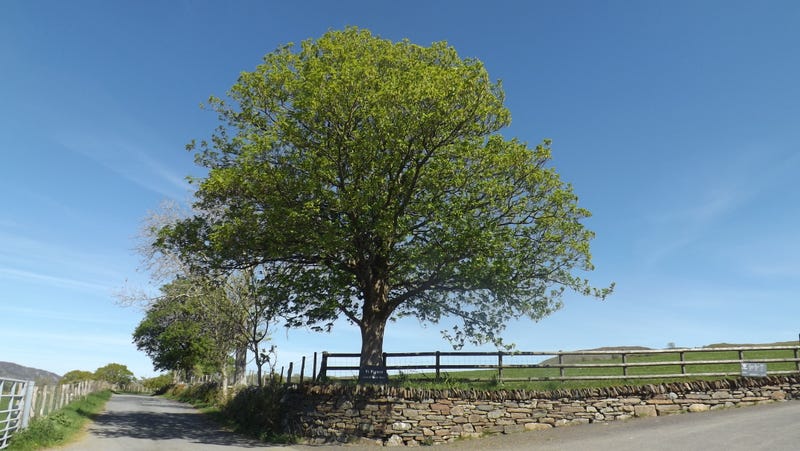 Last Tuesday, May 14th, was International Dylan Thomas Day, something that had escaped me, even though I have a bottle of Dylan Thomas beer in the fridge. However, I took a twenty minute bus ride to the home of another dead poet who was allegedly fond of a beer - Ellis Humphrey Evans.
The bus took me to Trawsfynydd, which is otherwise known as the home of a decommissioned nuclear power station (which might still be revived at some future point). From there it was a mile-ish walk, over the Prysor, gently uphill, to Yr Ysgwrn, a Grade II listed stone farmhouse that dates from around 1830. It has a colony of bats, four different species, in residence. I didn't get to see them.
There are four meanings behind the name Yr Ysgwrn. The first is a rocky outcrop, which doesn't really match the location, the second is "separation" or "divorce" which is favoured by the Ysgwrn family, though it reflects a time when a larger farm was divided between two inheriting sons. That predates the farmhouse and possibly reflects on the landowners rather than the tenant farmers. I'm still trying to find out what the other two meanings might be?  
The Evans family farmed the surrounding land and between crops, cattle, sheep, and chickens for eggs forged a self-sufficient life apart from a few items such as salt, sugar, and white flour. They would barter butter for extras of that nature. Breakfast normally meant "shot" - a mug of butter milk with baked oats - which would be gulped down in one go.
Up to a few years ago, there was some concern for the future of Yr Ysgwrn but Snowdonia National Park stepped in a purchased the property, promising to maintain it as a home that Ellis Evans would recognise. His mother Mary Evans said that the family would "keep the door open and the fire burning". During renovations the fire remained unlit and some 26 layers of wallpaper began to peel from the kitchen walls. Damp set in.
You might recall that I posted this pic last week. It's a sample of the wallpaper which had been put up around a barometer. The device itself is still in the kitchen where these days the fire is kept burning in a range that was state of the art when Mary Evans had it installed. All mod-cons for the 19th century. Apart from the kitchen table there is a Welsh Dresser, piano, some very comfortable chairs and a bookcase. The kitchen was the true family space, though there is a parlour on the right as you enter that would have been used to receive guests. To the back of the kitchen was the maid's room, usually a young girl learning how a farm worked.She had to get up first to light that fire. Behind the parlour was a cold store and work room which now houses a butter churn. Upstairs, mum and dad had the main room, the boys in the room opposite. The girls were on the landing because they had to rise early and go out to milk the cows.
The restoration has won several architectural awards and a nearby cowshed has been converted into an exhibition centre and reception.
As I mentioned, Ellis Evans has a reputation as a poet which you might not expect from a shepherd. Born on January 13th, 1887, he had a primary and Sunday school education but inevitably worked on his parents' farm.

Ellis characterised himself in verse as a "rough lad from Trawsfynydd" but concedes that he might have a way with words. Indeed, he demonstrated an early talent for writing poetry in Welsh and English and admired the romantic poems of Percy Bysshe Shelley. I wonder if he was aware that Shelley and stayed over in Tremadog before that trip to Geneva? Nature and religion are common themes in his work. 
However, Ellis was also highly competitive, entering his work to competitions locally and beyond. Occasionally this was under the name of friends because he was a little too successful at winning. Apparently he would quantify the prizes in terms of how many pints of beer they would buy.

It is the tradition in Eisteddfods (an essay in themselves) to present the winner with a chair. There is a symbolism attached, but it is also a showcase for the carpenters who build the prizes. Ellis won his first chair as a twenty-year-old at Bala in 1907. Three years later, he was given the Bardic name Hedd Wyn (meaning "blessed peace" in Welsh). He would win a further four chairs.
All of the chairs are on display at Yr Ysgwrn, but the chair in the parlour holds a dark significance. It is known as "The Black Chair". As a Welsh non-conformist with heartfelt pacifist beliefs, the outbreak of war did not sit well with Ellis. However, come 1916, he enlisted rather than let that burden fall on his younger brother. After training in Liverpool, he was posted to a battalion of the Royal Welsh Fusiliers. Given leave to go home and work on the family farm, Ellis started writing Yr Arwr (The Hero) for The National Eisteddfod. According to his nephew, Gerald: "It was a wet year in 1917. He came back for fourteen days leave and wrote the poem, Yr Arwr, on the table by the fire. As it was such a wet year, he stayed for another seven days. This extra seven days made him a deserter. So the military police came to fetch him from the hayfield and took him to the jail at Blaenau. From there he travelled to... the war in Belgium. Because he left in such a hurry he forgot the poem on the table, so he wrote it again on the journey. So there are two copies: one in Aberystwyth and one in Bangor."

Ellis posted the completed poem from the front in Flechin, France, a little before the start of The Third Battle of Ypres (or Passchendale). He was killed on the first day (July 31st, 1917) during the Battle of Pilckem Ridge after being shot in the stomach.
Some six weeks later at the National Eisteddford in Birkenhead it was announced that the entry under the pseudonym "Fluer de Lys" had won. The name was called three times but nobody responded. It was then that Archdruid Dyfed announced the poet had fallen in battle. The empty chair was draped in a black veil.
Hedd Wyn is buried in Artillery Wood Cemetery near Boezinge, which I have visited in previous years though the striking aspect of those visits was just how much bloody carnage was exacted over such a stupidly small space.
Since those horrific days, Yr Ysgwrn has become a point of pilgrimage for people with an interest in the First World War. The poet's story is also told in an Oscar-nominated movie Hedd Wyn, which I saw at our local cinema. By strange coincidence, that's also the jail where Ellis was banged up when those MPs came to find him when he was considered AWOL.