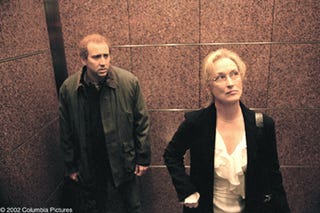 ---
Fifty years of body stank have waft between these walls.
Sometimes on a sunny day I smell it 'cross the hall.
I wish I could give you a wash - a good scrub all around,
But I know from when it rains, the musty air will be profound.
On windy days you howl as if in Purgatory pain,
And sometimes you just skip a floor as if you've lost your brain.
O elevator old and true, I'm sorry for your troubles,
But your shudders make me fear the worst and then I need a cuddle.
The birds have nested in your cable housing time again.
Poor squirrels have prob'ly died in there, but it is not your sin.
You scare the nervous people and the braver ones alike,
But the dozen-floored alternative is too much of a hike.
I know it's not your fault, old friend, your gears are old as dirt.
But I wish it wasn't such a trial to get upstairs at work.