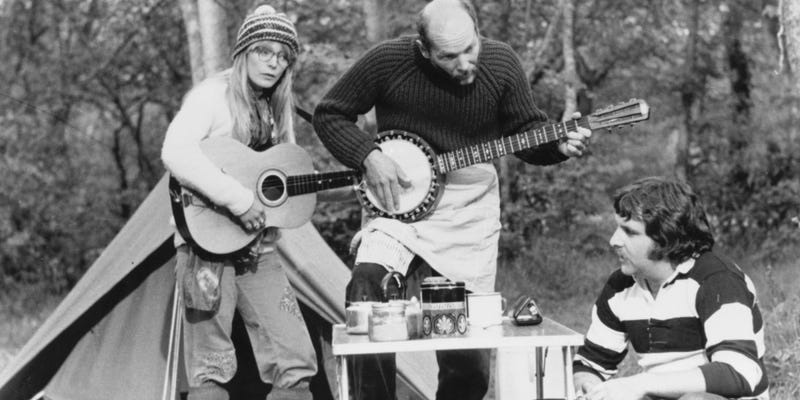 The Beeb are currently loading all kinds of weird and wonderful treasures on to iPlayer, one of which is Mike Leigh's Nuts in May (there are several DVD releases in the USA or you might even find it on YouTube). The film was made in 1975 for BBC One's Play For Today series and Leigh applied his method of improvisation and extensive rehearsal to a tale of camping and conflicting values.
Leigh has worked as a director on stage, film and television. His other work includes Abigail's Party, Vera Drake, Naked, Mr Turner and Happy-go-lucky. All worth looking out if you haven't seen them.
For Nuts in May, Leigh united his frequent muse Alison Steadman with Roger Sloman as an odd couple camping in Dorset. Steadman is Candice Marie, a childlike innocent, Sloman is the ultra obsessive Keith. Their plan is to enjoy nature while keeping other humans at arm's length. It doesn't work out that way.
There are some funny encounters looking at fossils in a quarry and trying to buy unpasturised milk, banjo songs, and vegetarian meals, but it all gets a little tense when a trainee PE teacher pitches his tent nearby. Ray (Anthony O'Donnell), switches on his radio which is unpardonable. They later give Ray a lift back to the camp, but if Candie Marie softens towards him, Keith is increasingly incensed. There is a further escalation when a brash Brummie couple, Finger and Honky (Stephen Bill and Sheila Kelley) arrive on their motorbike. Keith does not respond well.