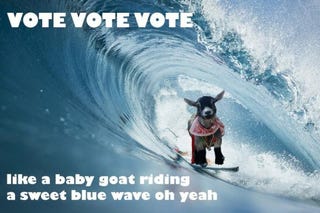 YOU ARE ENTITLED TO YOUR VOTE
YOU ARE ENTITLED TO HAVE YOUR VOTE PROPERLY COUNTED
President Obama stops in Miami for Tacos
Lyft Is Doing Ride Shares
MAKE A PLAN
If you're not sure where your polling precinct is, check here
1) IF an election official tells you you are not on the rolls, ask for a provisional ballot and VOTE ANYWAY.


2) IF you are already in line when the officials tell you the polls are closed – STAY – you are entitled to be able to vote!




3) Flip your ballot if you are in a paper ballot state when you are done marking it – there may be local initiatives that need your vote.


4) IF you are in a state with voting machines bought from a GOP CEO, do not choose the "straight ticket" single option – CHOOSE YOUR DEMOCRATIC CANDIDATES LINE BY LINE.
5) DO NOT BE INTIMIDATED
Not even by these people
DEMOCRATIC CANDIDATES, DEMOCRATIC VOTERS: IF YOU DETECT OR EVEN SUSPECT THE SLIGHTEST *WHIFF* OF ELECTION TAMPERING,


DO. NOT. CONCEDE.
Remember what's at stake




Luke Skywalker Himself Kicks Devin Nunes' Butt
REMEMBER REMEMBER THE 6TH OF NOVEMBER
GOP TREASON AND PLOT
WE SEE NO REASON WHY GOP TREASON
SHOULD EVER BE FORGOT
Know Your Rights
Use the Force