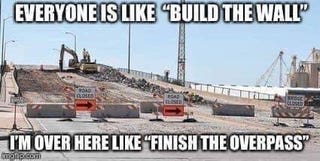 Those of us living in the real world are going to have to get used to fact-checking in real time.
I don't think there's another way around it when we're at the point where Bill Kristol is saying something progressive leadership should have been saying since 2+ years ago (and which they still need to be saying on every MSM front page and in every MSM lead segment as of this year, today, right now).

I'd like to think it's patently clear that those who
- want to have $5B of U.S. taxpayer money handed over so ostensible personal debts to hostile foreign oligarchs can be "settled" (you don't have to believe me; read Craig Unger) even though they have NO FEDERALLY-DRAFTED NOR –APPROVED PLAN for the allocation of that money
- REFUSE TO EXPLAIN what happened to the literal billions that were ALREADY ALLOCATED even as the actual fake "border security" thing they're screaming for has been exposed as a handler-manufactured campaign stunt
- refuse to admit to their recently exposed plot to actively curtail civil rights by hacking away at regulations aimed at reducing certain policies' disparate impact on marginalized populations, and refuse as stridently to examine any possibility of the clarity with which their actions point to the source from which they're receiving their "instructions", based on qui bono (literally "who benefits"; whose interest would such diabolical action serve)
have *no plans* to stop their bald-faced lying in public.
It is no longer reasonable to assume that they will stop lying just because they are caught doing it dead to rights and told to stop. It is neither safe nor reasonable nor logical to assume that just because these people hold positions of service in the public interest and took oaths to honor that service that they will actually do that.
(It was actually never safe to assume that – but that's a different discussion and I'm trying to do my best to handle one through-theme at a time.)
They are and have been doing their level best to inflict psy ops on the American voting populace, straight up.
So we will have to keep insisting on the actual truth.
State of the UNIOM (or, as you prefer, State of the ONION) is scheduled for January 29, 2019.
Buckle up.