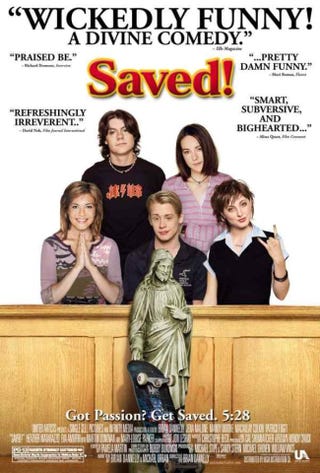 A clever little indie teen comedy about intolerance led by an all-star cast.
Mary (Jena Malone) is entering her senior year at American Eagle Christian High School. She seems to be in an ideal social position as one of the "Christian Jewels," the most devout and popular clique of girls in the school, led by the aggressively cheerful Hilary Faye (Mandy Moore).

But things take an unexpected turn when Mary's boyfriend, Dean (Chad Faust), tells her he may be gay. Mary hits her head and has a vision, in which Jesus tells her how to help "cure" Dean of his unnatural urges. Mary does everything in her power to sway Dean, but when his parents find out about his "problem," they send him away just before the school year starts, leaving Mary alone, confused, and, she soon finds out, pregnant.

Mary's new situation causes her to question everything, including her friendship with the judgmental Hilary Faye and her faith. Her mother (Mary-Louise Parker) is too preoccupied with her flirtatious relationship with the school's married principal, Pastor Skip (Martin Donovan), to notice Mary's problem.

Pastor Skip's dreamboat skateboarder son, Patrick (Patrick Fugit), has returned from missionary work and is attracted to Mary, but she already has too much to deal with. Just when she thinks her situation is hopeless, she finds a pair of unlikely allies in Hilary Faye's cynical wheelchair-bound brother, Roland (Macaulay Culkin), and wild, muscle car-driving provocateur Cassandra Edelstein (Eva Amurri), the school's only Jewish student.

The acting is fantastic in this across the board, but for my money, Mandy Moore steals the show with a devilishly funny performance.
---
Trailer: