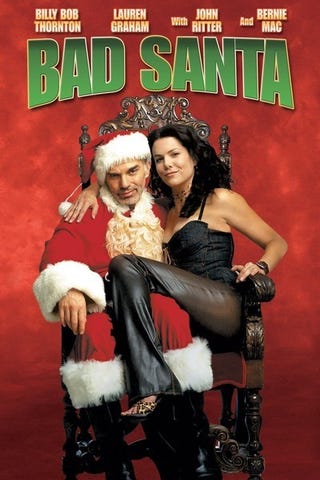 MY FAVOURITE CHRISTMAS EVE TRADITION!!! The last collaboration between Billy Bob Thornton and John Ritter is a dark comic tale of redemption (sort of) and sandwiches.
It's hard to believe that a film that has 170 variations of the word "fuck" in it could be the embodiment of the Christmas spirit, but that's exactly what it is. Willie (Thornton) is a degenerate alcoholic safe-cracker who along with his partner Marcus (Tony Cox) pull off a department store heist every year by posing as a Santa and elf respectively. At the end of the season, on Christmas Eve when all of the kids are finally gone with their families and the employees have finally clocked out the two of them stay behind and rob the store of cash and merchandise.
Willie has been getting progressively more depressed, drunk, and out of control each year and Marcus is tired of carrying dead weight. To complicate matters this year they have aroused the suspicion of the store manager (Ritter) and the store detective (Bernie Mac).
But in Willie's darkest time he meets a bartender with a Santa fetish (Lauren Graham) and the sweetest, most pathetic, stalker of a little boy (Brett Kelly) who both awaken the stirrings of a conscience and concern for someone other than himself in him.
Produced by the Coen brothers and directed by Terry Zwigoff (Ghost World) it's a very strange film... an almost comedic Christmas crime noir. The soundtrack is perfect (especially the saddest brass version of "Silent Night" you've ever heard), but what really makes something that shouldn't work work is the performances. The relationship between Thornton and Kelly is heartwarming and heartbreaking at the exact same time. And now that they're both gone the scenes between Ritter and Mac are still wildly funny but very poignant as well.
Trailer:
Random bits:
There are actually three versions of the film now: the theatrical cut, an extended even raunchier cut called Badder Santa, and an oddly shorter Director's Cut that's even darker.
John Ritter's final film. He and Thornton previously worked together on Slingblade, A Gun, A Car, and a Blonde, and starred on the television series Hearts Afire together.
Bill Murray and Jack Nicholson both were cast previous to Thornton but had to bow out because of scheduling conflicts with Lost in Translation and As Good as it Gets.