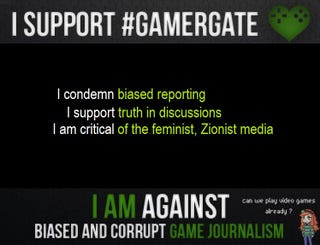 What's good for the goose is good for the gamer, so I want to ratfuck this horrible "movement" so hard, you guys. The Gawker mainpage had to apologize, advertisers are being lost from this site and others, and this is all because some people who don't leave their basement are utilizing the anonymity of these tubes to create chaos. Two can play at that game.
The #gamergate movement is pretty simple: a loose organization utilizing the writings of a few people and the person power of a moderate amount of people to spam social media and email. This tactic can easily be co-opted and turned against them, and it won't even need —like— questionably legal financing strategies. This just requires some time and some effort. The idea is simple, let's generate some form letters that appear to be from #gamergate —but our actually from us, and they're fucking horrible. The idea is to find something that just skirts Poe's Law and demonstrates how these rats deserve to be fucked.
Step 1: We generate a few of these form letters.
Step 2: We create social media and email accounts that appear to be pro #gamergate.
Step 3: We use those accounts to spam pro #gamergate material that appears genuine —and terrible.
Let's draft angry #gamergate emails that defend horrible people or ideas or organizations in the current culture. I, for one, think #gamergate needs to defend Ray Rice more, they might want to take on some slightly racist or anti-Semitic views, certainly there needs to be an increase in conspiracy theory in their social media presence and emails demanding sponsorship changes (e.g. moar lizard people) and I wonder if the #gamergate people could get intertwined on both sides of hot button political issues that turn off everybody.
We draft form letters, tweets and posts along those lines, and then lobby the advertisers that are currently being lobbied with those formulaic letters and posts. The way we're gaming #gamergate is that we do it in such a manner it makes #gamergate seem even more insane than they appear to be. Intel might wonder why they are siding with people that appear, now, to rant about Zionism. Adobe might not want the press of being on the same side of those people that are thanking them for the software that lets them coalece a movement to support Ray Rice. Mercedes-Benz might think twice if they appear to be on the side of Holocaust deniers.
At best this presents #gamergate as a confusing, even more objectionable group of people —this will make it harder for them to achieve their goals. At worst it will require them to use their resources to clarify their already confusing and questionable goals. The idea is simple, let's turn the tools being used by #gamergate against them. Let's #GameGamerGate. If a few people write and leave drafts of emails/tweets/etc to slightly modify and copy/paste, we are already on our way. Shit, we could get fancy and open up some shared google docs. Then it's just time to start gaming them. They deserve this. Together we can ratfuck #gamergate. #GameGamerGate