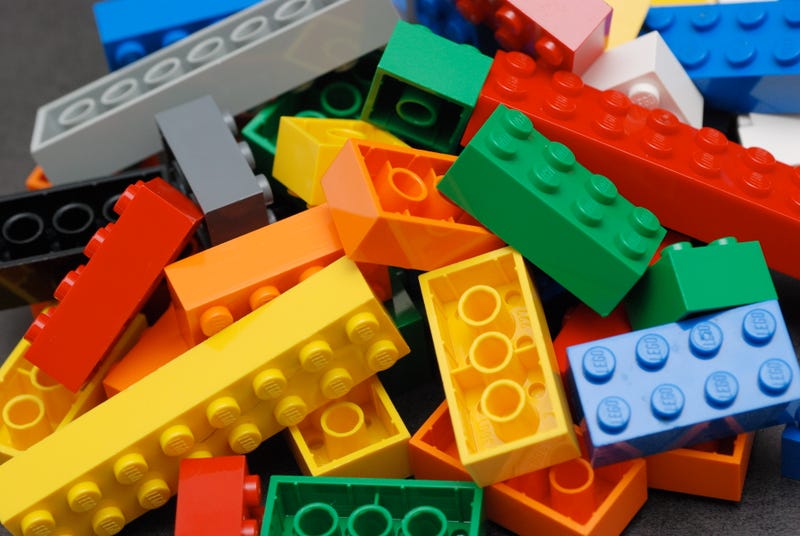 image from Wikipedia
The crashing sound of pouring out the bricks. Little hands raking through plastic searching for just the right piece. Sore fingertips from snapping the bricks apart. Stepping on a lost brick buried in the carpet two days after you picked them up. LEGOs were a integral part of my childhood. Let's take a walk down the yellow brick road named Memory Lane!
Growing up, I had always had some really old LEGOs like these:
image from bricker.info
and some of the classic LEGO 2x8 bricks. They were ok, but I never really got that into them.
Until one day when I was like maybe 7 or 8, I got these sets:
image from brickpicker.com
image from lego.brickinstructions.com
I was immediately hooked. From that moment on, I was a LEGO kid. I had discovered the wonderful world of the minifigure town. I loved building up the cities and tearing them down and building new ones. I loved the architecture, the challenge of using a limited resource to build a beautiful and functional structure. I began asking for LEGOs for every birthday, every Christmas. I was very analytical about which sets I got, making sure it was built of highly reusable pieces for maximum construction value. Hours spent on the living room floor with South Pacific or Papillon on the TV while entire cities were built and torn down. I remember how thrilled I was to find the Paradisa sets, proof that LEGOs could be marketed to girls without being over-the-top about it:
image from brickpicker.com
One Christmas, I got this one:
image from bricks.argz.com
I don't know why I loved this set so much, but I did. Not exactly the girly-est set, but anyway... I loved it.
All right, Backtalk, I showed you mine. Now show me yours. (Tip: I googled whatever I could remember to find pictures of my sets. Example: "Lego cabin" found the last picture.)
Tell me all about your LEGOmania!