Just sitting here waiting for to get started on the weekend. What's up with you?
I'm beat after everything this week, which still isn't done by any stretch of the imagination. I can't wait for my houseguest to get back on Monday and take some of the weight off. But it definitely could be worse. There's over 600 people missing in California as of this morning. Hoping to go catch Widows or A Private War later today, but there's BUNCH of new stuff of Netflix if not.
---
Here's Some Stuff: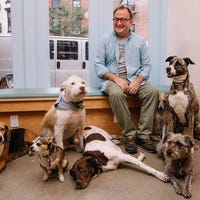 He Befriended 4,000 Dogs to Get Their Side of the Story
Dogs in New York City have a miserable life — that's what Ken Foster kept hearing. How could they not? Many live in tiny apartments. Most do not have backyards to romp around in. They are bored at home all day while their owners toil long hours.
https://www.nytimes.com/2018/11/11/nyregion/nyc-dogs-book.html