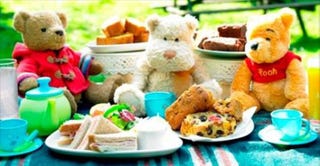 Well that was a big surprise. Folks were getting irate about the pending arrival of something big, orange and flabby, but that wasn't the only thing to get us Brits revolting.
The real anger was venting at branches of Build-A-Bear Workshop where a promotion went rather wrong. It might have seemed a simple idea. For one day only, customers could pay their age. The normal price of these custom Teddy's is around £52, so a six-year-old could make a tidy saving by selecting their choice of bear bits to throw together into a cuddly toy.
Except hordes descended on these shops in Leeds, Sheffield, Basingstoke and other places. Great long ques that they were ill prepared to handle and in the heat tempers began to fray. Police were called in some case to manage crowd control.

All the shops closed early with loads of dissatisfied customers.