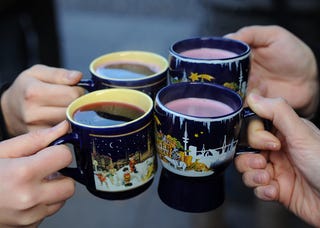 People have drunk mulled wine since antiquity. I've drunk it since I was a youth who went abroad to Hungary for my junior year abroad and then when I was a youth of 25, I went to Poland and that Christmas, we all spent it in Vienna, ice skating and drinking gluhwein. And debauchery. Holy crap. The debauchery. More debauchery than even that super long run-on sentence I just completed. Would you like a steaming cup of history? What about Apicius's wine recipe from the first century AD?:
¾ litre of medium-dry white wine
170 gr clear honey
½ teaspoon ground black pepper
1 bay leaf
a pinch of saffron
a pinch of mastic (difficult to get unless you have a wine stock or a birch tree in your garden).
A dollop of maple syrup may do the trick.
1 fresh date, the stone roasted for 10 min and the flesh soaked in a little wine.
Mix the honey with the same amount of wine (1 ½ dl) and bring to boil. Skim and repeat. Add the spices to the mixture while hot and let it steep until cold. Add the rest of the wine and allow to stand overnight. To serve, strain through a fine sieve or muslin and serve cold. The best way to explain the taste is to think 'Martini' (shaken, not stirred).
Or would you like a traditional cup of German Gluhwein? Most writings on this drink says that it's hard to discern the original recipe since there are so many variations, going back to 1420 but cloves, cinnamon, and red wine are always a staple and maybe you can get creative with a little cardamom.
Anyone having a little gluhwein for the holidays? Maybe I'll make it to Metzger's German Restaurant before I leave this area for the holidays.