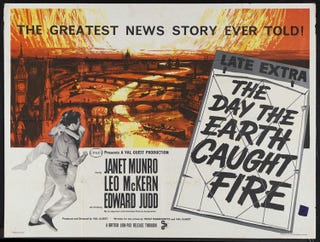 Heat plays a crucial role in a movie that caught my attention at an early age. It seemed to be on telly regularly at point and offered a restrained tale of mankind's folly that dangled an uncertain future in front of the audience.
And maybe, just maybe, The Day The Earth Caught Fire is due for a remake, but, and this is a big but for me, where would you set it? The 1961 Val Guest movie shows the world walking into an apocalypse, personally and globally. On the global scale America and Russia run a series of nuclear bomb tests. On the same day in fact. In their wake the world is knocked off its axis and extreme climate change causes earthquakes, storms, drought and it gets hot, hot, hotter.
On the personal front, Edward Judd is a reporter self-destructing after a messy divorce. He is supported by veteran Fleet Street man Leo McKern and strikes up a new friendship with Janet Munro. The crucible for this is an actual newspaper office, the Black Lubianka HQ of The Daily Express, the paper who had the first reporter into Hiroshima, the guys who broke the story about the Russian probe orbiting the Moon, And that editor, it's not Perry White, it's Arthur Christiansen (renamed Jeff Jefferson) who edited the broadsheet for Beaverbrook when it was a force to be reckoned with?
It's this setting and the interactions that flavour the tale of doomsday. The end is ambiguous at best. Has a plan to detonate more bombs worked? The Express lines up two headlines, one for each outcome.
I'm not sure that setting works today. At least The Daily Express doesn't. They regularly run headlines about cold snaps, heatwaves and cures for diabetes, none of which have the gravitas of the glory days.
Maybe it should shift to television? BBC? Sky? Fox News? Russia Today? Does piers Morgan make a good stand in for Arthur Christiansen?
Perhaps it's just safer to sit back and enjoy the 1961 movie for what it is. Much more enjoyable.
Coincidentally, Val Guest and co-writer Wolf Makowitz won a BAFTA for Best Screenplay for The Day The Earth Caught Fire.