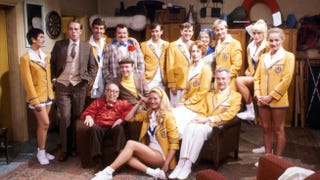 I have never been to a holiday camp. My parents were set against it despite, or perhaps because of, intensive advertising from Billy Butlin, Warners and other providers promising a little slice of heaven by the sea. But for many in the UK, it's where they got a summer break, tucked away in a chalet with the chance to take a dip in the pool, play bingo, go ballroom dancing, or take part in a nobbly-knee contest. It's the kind of environment that provides a little touch of horror to the closing songs in Tommy.
The holiday camps were also a training ground for many a dancer or comedian or a last chance saloon for entertainers who were past their sell-by date. The Butlins camps at Filey in Yorkshire and Pwllheli, Gwynedd provided a source of inspiration for Jimmy Perry who worked as a redcoat during summer season.
Perry would go on to create a host of classic comedy shows with David Croft. They were the duo behind Dad's Army and It Ain't Half Hot Mum and Perry turned to his Butlins years for Hi-De-Hi! If Perry was Pike in Dad's Army, I'm sure he was Spike in Hi-DeHi!
The show ran 1980 to 1988, with 58 episodes set in a nebulous late Fifties- early Sixties camp in Crimpton-on-Sea, Essex. The camp was called Maplins (which would later be the name of a chain of electronics stores) and introduced Jeffrey Fairbrother (Simon Cadell), an archaeology professor from Cambridge experiencing marital difficulties. In an attempt to readjust his life, he has taken the job of Entertainment Manager but is uncomfortable with his chief comic and compere Ted Bovis (Paul Shane) organising events such as "That's Your Bum!" He's a bit of a rogue is Ted and frequently has a scam on the go.
Further, Chief Yellowcoat Gladys Pugh (Ruth Madoc) is immediately smitten by her new boss and thus starts a tale of unrequited passion. She is perpetually trying to engage Fairbrother in a romance he doesn't want. As Gladys Pugh, Madoc got to wake campers with tanoy messages. They would start with a xylophone jingle and words "Good morning Campers." The phrase "Hi-de-Hi" was supposed to illicit the response "Ho-de-Ho". She would follow through with parish notices that inevitably veered into uncomfortable and twisted territory.
The other characters have some terribly detailed biographies with strange accidents of circumstance that have brought them to Maplins. Spike Dixon (Jeffrey Holland) is a naive young comic. Ballroom dancers Yvonne and Barry Stuart-Hargreaves (Diane Holland and Barry Howard) feel they are above the other entertainers but their marriage is one of convenience. William Partridge (Leslie Dwyer) is a former Music Hall legend reduced to Punch and Judy shows. He is the children's entertainer but hates kids. Fred Quilley (Felix Bowness) is a defrocked jockey working as a riding instructor. Sylvia Garnsey (Nikki Kelly) is another Yellowcoat, adding a bit of glamour to the mix.
The break out character was Peggy Ollenshaw, played by Sue Pollard, the chalet maid who dreams of leaving her mops behind to become a Yellowcoat. She got her wish in the final episode, just as the camp closes its doors to the public.
The cast would get the odd shake-up in later years with similar characters coming into the mix. The camp's owner Joe Maplin remained unseen communicating via coarse letters that inevitably embarrassed the person who had to read them to fellow workers. Peggy's supervisor Miss Cathcot also remained a feared but otherwise invisible force.