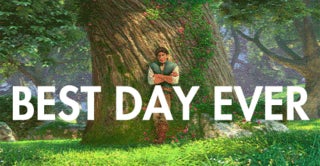 Hello BALKers, and welcome to the BackTalk Roundup for Thursday, August 7th, Two-Thousand-Fourteen. Let's get started!
Last night Madam Puddifoot hosted our midnight movie "Space Camp."
JinxieJade (very cool name if I understand the reference!) asked us the age old question: What kind of fucked up childhood did I have?!
LaVieBohemeB inquired on what our favorite childhood books are:
scavengersdaughter introduced us to Lord Smaug: Lego Edition.
MissNormaDesmond alerted us to some terrible customer service inflicted on an infirm elderly man.
Zhandi got us thinking about some of our terrible movies from childhood that we love (love to hate? does that count too?)...
He gave us a beautiful picture of the Blue Mountains in Australia to wake up to...
And then he led a discussion on the final season of The Killing.
EasttoMidwest gave us a place to dump our favorite posts of the day:
Teapot let us know that she is literally having the best day ever because she gets free food, which means I'd have to agree with her.
Snacktastic brought us our next edition of the Duggar Roundup.
RedWriter was VERY happy to get to meet her dad in September :D
Zhandi opens his doors and lets us bitch with him in BlaurghTalk.
Justice was served.
intherain asked us all about our sleepovers and slumber parties.
scavengersdaughter popped a quiz on us.
And finally Teapot continued the theme of inappropriate things we loved as a child this time with songs.
Thanks everyone. Hope you had fun!