---
Kill Me Now
Friday night dinner. Fancy food. Classical music. Candles. God, this is so any family dinner at my grandmothers house, minus the maid.
Emily and Richard go through maids like nobody's business. Emily doesn't even know her current maids actual name she goes through them so fast. And for innocuous stuff, too, like not closing doors or singing. Richard is no better, remembering he liked a female maid but then realizing he really liked Anton, a man. Lorelai points this out and grandpas response epitomizes the elder Gilmores:
"I have a lot to do in a day, lorelai. I don't have time to keep up with the multitude of people your mother employs."
Rory has to pick a team sport and because Emily is a control freak, suggests that Richard reaches Rory golf, one of her choices at school.
"Lorelai: I told her she should go out for the debating team. Rory: It's not a sport. Lorelai: It is, the way the Gilmores play."
Richard and lorelai both seem uncomfortable with the idea but Emily being a master manipulator twists everything and poof. Rory will join her grandfather at the country club for a round of golf. Lorelai is not happy as she has insulated rory from that life and now because of Chilton, rory is quickly becoming immersed.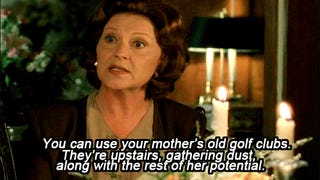 ---
Rory is super optimistic about going to the club. Lorelai has zero interest in going to the country club.
The inn is hosting a wedding for a set of twin girls. Standard bridezillas with a mom who knows how to wrangle them. With disdain, she calls them spoiled. Lorelai clearly is great at her job at the inn. The disdainful woman seems blissfully happy with lorelais handle on the event and the masseuse lorelai is sending her.
Lorelai: You don't care at all, do you? Michel: To me you are the teacher in the Charlie Brown cartoon. Lorelai: Okay, forget it.
Michel is being himself. OMG. The twins are marrying TWINS. Michel asks to be informed when the midgets and clowns arrive.
Rory is late to meet her grandfather for their day of golf. Richard is nervous and claims the day to be absurd to Emily. He will teach rory to golf but lunch is out of the question. Emily gives rory a stupid hat but rory gladly wears it.
---
Richard: Now, what do you know about golf? Rory: That it's a good walk spoiled.
Slowly but surely Richard is realizing rory is not really like lorelai and he's becoming more comfortable with Rory.
Golf instruction includes confidence and humility. Agreed. Rory misses but isn't discouraged. Golf is hard and takes more than a day.
Sookie and Jackson fight of the episode: Sookie ordered strawberries for strawberry shortcake for the wedding. Jackson brought her blueberries because the strawberries were subpar. He suggests making blueberry shortcake. But who has heard of blueberry shortcake?
Michel taped a sign on the back of one of the male twins to tell them apart. Sookie ponders if the four of them would ever mix each other up.
Rory hit the ball! But it landed in the water hazard. :(
Richard works in the insurance business. I wonder if he knows Vicki from the RHoOC.
Rory wants to travel and Richard appreciates that. He's surprised to hear lorelai feels the same way. They are staying for lunch! After a steam, of course. And as is standard in a country club, the steam and sauna are breeding grounds for gossiping. Richard is pleased at how rory compares to his friends grand kids. Proud, really. Rory is let in on some salacious waspy gossip.
Mick! But nobody says his name so I'm not sure if it's changed yet. But his job is to deliver swans to the inn for the wedding. And he's not very helpful at all.
---
Also. Drella the harpist is actually Alex Borstein, who does the voice of Lois on family guy.
At lunch, rory and Richard discuss the gossip she heard in the steam room. Richard calls it Peyton Place! Love that movie. I need to get on reading the book. I have to trips coming up, I must get on that. That and Valley of the Dolls. Richard flaunts rory to his friends. He seems happy.
---
At Luke's. He tells rory golf courses are an environmental blight. Lorelai shows up and they have a conversation about Rory's day at the club. Rory tells her she liked it and had fun. Lorelai doesn't like it instantly. The golf, the lunch, taking a steam, lorelai is perplexed that Rory wasn't bored. She's also surprised that rory and Richard talked. I guess we know the father/daughter relationship is less than good.
Miss Patty is teaching the couples to dance. Any excuse for her to get handsy with a cute young guy, she will go for it.
Richard calls the inn looking for rory. Lorelai does not like it.
At home, Lorelai wants to know what Richard wanted on the phone. He had found the book he and rory were discussing and wanted to tell her he found it, it's some obscure smarty pants book I'm too lazy to google.
Piano in the background from a neighbors house is playing. Lorelai asks if rory wants to bail on Friday night dinner this week but rory says no.
So the following video needs to be played as this conversation happens next:
Hahahahahaha. One of the best fights on tv ever. Lorelai isn't talking about boobs here, really.
Lorelai tells Sookie how uncomfortable she is with rory golfing and having a good relationship with her grandparents. Sookie calls it, lorelai is jealous. Lorelai knows it. She's just totally taken aback by rory wanting that life.
Sookie finds strawberries! Lorelai comes to terms with rory being a part of the "Chilton world". Jackson catches Sookie buying enemy fruit! And they go fighting down the street. It's pretty cute.
The wedding reception. Everyone is there, happy and dancing. The twins are moving and the mother is thrilled.
Lorelai finds rory manning the guest book and offers a mea culpa.
---
She doesn't care if rory wants to spend time with her grandparents, it just caught her by surprise. Because of their past, lorelai and her parents have a strained relationship and lorelai doesn't want rory to feel that way.
Things are resolved. The wedding is a success. Friday night dinner to end. Lorelai brought leftover blueberry shortcake for dessert. The episode ends with rory and her grandparents off screen looking at this fancy book and lorelai alone in the living room.
Follow Along: