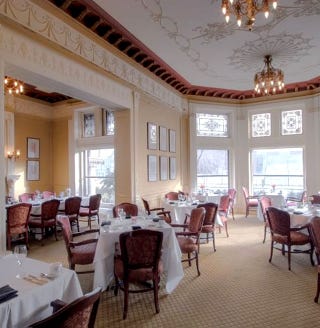 This is the inside of the Whitney in Detroit and Owl was asking me a bit about what I ate while I was there. I met up with one of my friends, my cousin and his fiancee and then my mom came. We had high tea, which you usually have to reserve ahead of time because I think they plan the menu out in advance.
So we had this spring type tea that had some orangey tastes and some floral spice. I wish I knew exactly what was in it but it was very pretty. After that, we had a couple of small scones with whipped butter and cherry jam. The whipped butter was amazing. I wanted to marry it. We had a small spring salad and a soup course. Then they brought out the tiered tea service. On the bottom we had cucumber and salmon sandwiches and this little beef wellington (which was my favorite—so mushroomy and warm) and something else I can't recall. The second tier had a couple of deserts. One was peanut buttery, which I loved and then there was a small chocolate mousse. Finally at the top were a few chocolates with a little cherry cream.
It was lovely partly because it was cold and rainy outside and inside were several fireplaces. And we bonded. My cousin was the only man in the entire restaurant. I don't know what that means but I'd let you know.
How are all of you? Happy December. Don't do what I did last night and think that shopping during the weekend this close to Christmas would not be harrowing.