Hello and welcome to another Fur Face Friday! This is where you go at the end of the long, long week to get your happy face back, by taking your regular face and filling it with all kinds of cute!

In case you're new (in which case, welcome!): Favorites are chosen by one of the Snout Selectors (KrabbyPaddy, facw, Chuckles, k2b, and Hannibal), entirely on our own whimsy. WHIMSY. However, in the interest of solidarity, we try to select one dog picture and one cat picture (minimum!) each week. Other pets will also, of course, be considered. We love all your rats, bunnies, ferrets and other furry, feathery & finny pals. WE WILL NEVER DISCRIMINATE AGAINST CUTE. As always, we're happy to dismiss any pictures if you decide you want them taken down at some point.
If you don't have a pet of your own to feature this week, it's the height of kitten and puppy (and other critter) season and it's getting crowded! I highly recommend featuring and linking to any cuties who are available for adoption and looking for a home on Petfinder or any other shelter or rescue site. If you're like me, you probably know people doing some good rescue/foster/support work in your area, so please feel free to share the love and the fluff from your hometown.
In that sharing spirit, if you don't have a pet but want to participate, drop off your best Internet find of an animal .gif or meme or tweet in the comments. The more animal lovers, the merrier :) Speaking of sharing, feel free to share these posts anywhere in the Kinja-verse, because it has been scientifically documented that looking at pictures of cute animals reduces stress.
Well, folks, we're a third of the way through with this year and some weird shit and sad shit and just plain craziness has gone down, and maybe we're all wondering "what's it all about?" Hopefully last week's precious little monsters will help us figure it out.
i86hotdogs' Toby is no chicken, but he doesn't mind if his best friend is.
---
ImmoralMinority's (also) Toby and Pumpkin are big on camaraderie as well...
Violet Baudelaire's sweet girl is always looking for new friends.
---
...while kristinbytes' nephewdog Louis wishes the ones we have could share their toys a little better.
Lexador's Mexadog Jr. is feeling a little confined these days and would probably like more room to roam.
---
I am calm, but thanks' Tammy Faye likes to get out and see the world for herself.
And Future Heap Owner's Ravna is partial to finding a comfy spot afterward.
Ladybug the ninja cat's two kitties know it's all about treating yourself, or in this case, you giving them treats right meow.
---
His Stigness' Mufasa thinks that life (and Stig, too) should be a smorgasbord.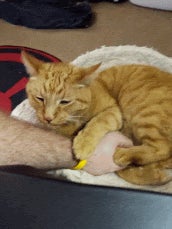 ---
phenotyp's Alice looks like she might know the secrets of the universe, but she's not telling.

---
For Marissa's Yonny, it's all about that love.
But BlueTulipRozeOnTheThirdDay found this… er, fella… who probably just prefers to chew things over for a while. I mean, how cud you go wrong?
That's it for this week, everybody. Y'all be sure to give all your little floofins all the squeezes and treats and walks and rubs they need, because most days there's nothing that makes life better than our little fur faces.