Hello, everyone, and welcome back to your regularly scheduled Fur Face Friday. Last week, we had a special memorial post for all the darling pets we so sorely miss, and who will always be in our hearts. Now we're going to celebrate the ones who are here to heal our hearts every day.
In case you're new (in which case, welcome!): Favorites are chosen by one of the Snout Selectors (KrabbyPaddy, facw, Xyl0c41n3, Chuckles, CBG, k2b, and Hannibal), entirely on our own whimsy. WHIMSY. However, in the interest of solidarity, we try to select one dog picture and one cat picture (minimum!) each week. Other pets will also, of course, be considered. We love all your rats, bunnies, ferrets and other furry, feathery & finny pals. WE WILL NEVER DISCRIMINATE AGAINST CUTE. As always, we're happy to dismiss any pictures if you decide you want them taken down at some point.
If you don't have a pet of your own to feature this week, I highly recommend featuring and linking to any cuties who are available for adoption and looking for a home on Petfinder or any other shelter or rescue site. If you're like me, you probably know people doing some good rescue/foster/support work in your area, so please feel free to share the love and the fluff from your hometown.
In that sharing spirit, if you don't have a pet but want to participate, drop off your best Internet find of an animal .gif or meme or tweet in the comments. The more animal lovers, the merrier :) Speaking of sharing, feel free to share these posts anywhere in the Kinja-verse, because it has been scientifically documented that looking at pictures of cute animals reduces stress. So let's find a moment of joy in these, our little endorphin-enabling wonders.

First up, yesterdaysjam found Nell being a light in the darkness.
Edie Beale's Littledude performed his civic duty in being cute.
BlueTulip's sistercat Mia gave us a shoulder to lean on...
...while kristinbytes' Bindi suggested three heads are better than one.
Kiltedpadre's Lola reminded us that comfort is found in familiarity.
booktart's dog showed us what a big beautiful world it is.
simon-on-the-river's Tiddly reminded us to get plenty of rest.
Bertolt's Harpur and Beckett let love conquer all (after conquering each other, of course).
Hammergirl found the charming benefits of horsing around.
bio's kitten emphasized the importance of sharing relaxing activities.
...and last but certainly not least, Chuckles' Apple did her best to help us all smile at the hidden treasures in our lives.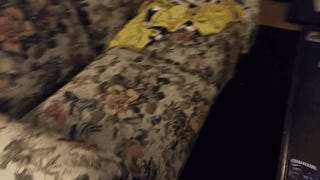 ---
That's it for this week, all. Our pets really are a blessing in our lives and they can hold us together even when the world is falling apart. So please share your befloofed, befinned and/or befeathered - and most importantly beloved friends!