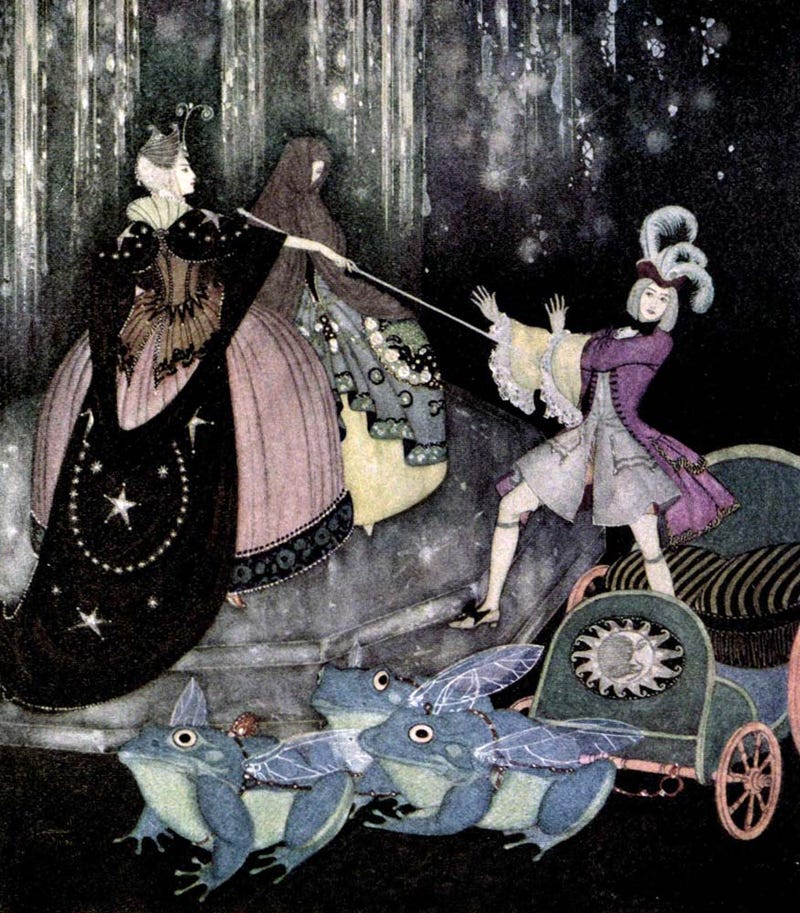 I think several of us have mentioned a love of myths . What is your favorite? I have about a dozen books of fairy tales and folktales around the world, as I love Russian and English and Italian and Japanese stories, among many others (basically I own about 20 books in this library). I think I admire Vasilissa the Beautiful, just one of many young women valiantly surviving in dangerous worlds, not yet neutralized by Disney mythologizing. (I hope they never make a cartoon of Vasilissa, trying to fit her heroism into a Princess mode).
But my favorite is a Danish affair, created by the longing of Hans Christian Anderson. No, it's not the Little Mermaid, though I was so excited to see her statue looking out to sea when I was in Copenhagen many years ago. But rather, the Tinder Box. I love it's marvelously amoral tale, which was so refreshingly different than more heavy handed stories about people getting their comeuppance in a fair world. But that was usually not Anderson's style. But even more than the message, I loved the description of the dogs
If you go into the first chamber, you'll see a great chest in the middle of the floor; on this chest sits a dog, and he's got a pair of eyes as big as two tea-cups. But you need not care for that. I'll give you my blue checked apron, and you can spread it out upon the floor; then go up quickly and take the dog, and set him on my apron; then open the chest, and take as many shillings as you like. They are of copper: if you prefer silver, you must go into the second chamber. But there sits a dog with a pair of eyes as big as mill-wheels. But do not care for that. Set him upon my apron, and take some of the money. And if you want gold, you can have that too—in fact, as much as you can carry—if you go into the third chamber. But the dog that sits on the money-chest there has two eyes as big as round towers. He is a fierce dog, you may be sure; but you needn't be afraid, for all that. Only set him on my apron, and he won't hurt you; and take out of the chest as much gold as you like."
This was amazing. Maybe I had a taste for the macabre because the only story I liked nearly as much was Aschenputtel, the German telling of the Cinderella myth, where the evil stepsisters cut off their heels with a knife to fit their feet into shoes. And then the bird from the tree planted in Aschenputtel's mother grave plucked their eyes during Aschenputtel's wedding. As they should. The Germans were always a little bloody in their tales, not even sympathetic as the hale and hearty French fairytales by Charles Perrault or Madame D'Aulnoy.
What say you, my friends? What are your favorites and why?
(pic by Edmund Dulac)