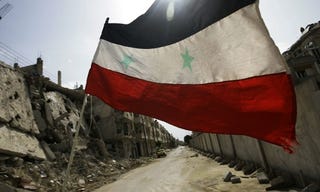 The Syrian City of Homs has been a city under siege for years and the pictures are shocking. But people are slowly returning home as this city is slowly waking up from a months long nightmare.
Still, milestones of recovery are being marked. This month the first wedding since what Assad loyalists call the liberation was celebrated in the quarter's first-century Syriac Orthodox church, Umm al-Zennar. And Bayt al-Agha, the nearby Ottoman-era restaurant, its distinctive alternating black and white stone structure now half-destroyed, was open for business during the football World Cup in Brazil. But after dark, the alleyways are eerily deserted, ghostly figures emerging from security checkpoints as vehicles approach. It will be many years before it is picturesque again.

By day the scale of the destruction in Homs is shocking. Buildings are battered and pockmarked or floors pancaked on top of each other. There are only dark, charred spaces where windows used to be. Slogans scrawled on walls tell fragments of the story: "Welcome the people of Jihad," reads one. Others advertise al-Farouq – one of the first brigades of the Free Syrian Army, the mainstream rebel alliance. In the moonscape of the Bab Hud neighbourhood, on the frontline by the Homs Citadel, a commander signed himself Issam Abu al-Mout – a nom de guerre that is a chilling reference to a man boasting of facing death.