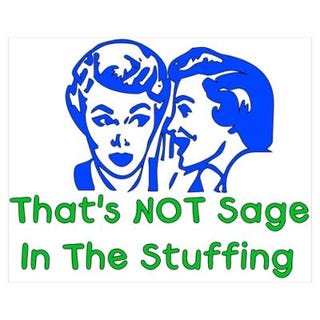 Thanksgiving is about friends, family and getting toasted… nicely toasted. This is the recipe to get you there:Colorado Ganja Gravy straight from the Wild West where you can buy it legally and trade it for tasty tacos on Green Friday. Turkey is one fatty bird, and that animal fat is the secret to a tryptophantastic Thanksgiving. You've already probably gotten high in the garage with weird cousin Steve and an uncomfortably aged second cousin, so I'll keep this short and easy to help blunt out those memories.
Ingredients for four servings:
1 gram decarbed weed
1 tbsp turkey fat
1 tbsp flour (AP suggested)
1/2c whole milk, room temp or slightly warmed
1/2c – 1c stock (or broth or milk or water)
1/8 tsp poultry seasoning
¼ tspn fresh parsley or 1/8tspn dried parsley
Heat the turkey the turkey fat in a pan that will be capable of comfortably holding the sum volume of the above ingredients over medium heat. Add the decarbed weed (which is just weed you've microwaved for two minutes, crushed, nuked again for two and crushed one more time). Heat that and swirl it around, get the pot good and soaked. Then start bringing up the temperature until you just see a wisp of smoke. Let it come down in temp for two minutes off the heat, stir it, use the bottom of a spoon to sort of crush now dark weed into the fat. Then throw it back on the heat until you see the fat just begins to smoke. Remove it from the heat again. You have now made the weedy fat for your roux –feel free to strain out the weed bits. I don't. At this point, you can feel free to use your favorite gravy recipe scaled down to using one tablespoon of fat. Here's a simple one:
Add the flour the be-weeded turkey fat over medium low heat. Stir that with a whisk or fork. Bring it up to medium heat; when it smells nutty. Add in the poultry he (this would also be this would also be the time to add dried parsley or any other dried herbs for flavor), cook it for about 30 more seconds and then add 1/2 cup of stock slowly, split it up into four different pours –whisking all the time. Now add the room temp (or even better, slightly warm) whole milk. (Milk aids in the digestion of the chemicals you're looking for.) Again, split this up over at least four pours while whisking. Keep whisking and bring this up to a simmer/the start of a boil, then bring down the heat to low or warm. This is as thick as it will get while warm (until it dries out in air/your frig), so add stock until you reach your desired consistency (or maybe just a little thinner than you'd think you'd want). Add in that fresh parsley (or whatever fresh herbs you'd like).
This makes a fair amount of gravy for four people, but it's for a holiday and you're high as fuck. Make sure to pick a kind of pot that gives you the experience you're looking for, without too strong or clashing flavors. I go with Great White Shark for an all-around good time. To up the sleepy, go with that Grape Ape. If need a little pick me up, go for Durban Poison or Green Crack. This is a pretty forgiving recipe (as gravy recipes go), and really this is just about the poultry fat covering the taste of the weed, and it being an excellent mechanism to activate and get that wonderful thc inside of you. Have safe, happy and relaxed Thanksgiving!