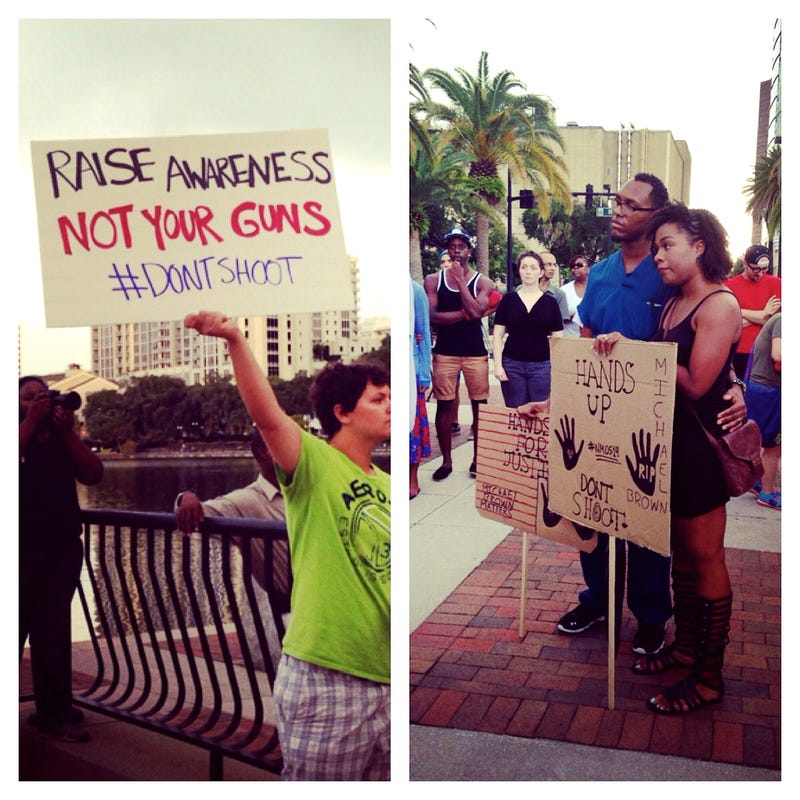 About 50 people attended the Orlando vigil. It was a peaceful, solemn crowd. We held our hands up during the moment of silence.
Then people were invited to share their personal stories. Everyone agreed that this problem has been around a long time but it needs to be solved. We know it all too well since this is the place where Trayvon Martin was murdered. A white woman said white people need to wake up and realize white privilege exists. A white man said it's not just white privilege, it's white supremacy. We all agree we have to work together for solutions. Someone spoke of us being "one race" that that's what we should be. A grandma held up a sign that said I AM MICHAEL BROWN'S MOTHER and she was saying good stuff but she made me cry so I can't remember.
There was much talk of standing with Ferguson and sending them our love. An older gentleman said he marched with Martin Luther King and he was glad to see us out representing. There were several TV cameras and reporters covering it. At the end a rainbow appeared and we felt that was a good sign. We had to disperse before dusk according to park rules, and did so without incident. No police showed up in riot gear to lob things at us, which was nice.