Hello, lovers of squeaky, snappy, howly, slinky, purry and jowly critters of all spots and stripes! It's time to dress up the week with some soopercute lil' devils, just in time for Halloween.
In case you're new (in which case, welcome!): Favorites are chosen by one of the Snout Selectors (KrabbyPaddy, facw, Xyl0c41n3, Chuckles, CBG, k2b, and Hannibal), entirely on our own whimsy. WHIMSY. However, in the interest of solidarity, we try to select one dog picture and one cat picture (minimum!) each week. Other pets will also, of course, be considered. We love all your rats, bunnies, ferrets and other furry, feathery & finny pals. WE WILL NEVER DISCRIMINATE AGAINST CUTE. As always, we're happy to dismiss any pictures if you decide you want them taken down at some point.
If you don't have a pet of your own to feature this week, I highly recommend featuring and linking to any cuties who are available for adoption and looking for a home on Petfinder or any other shelter or rescue site. If you're like me, you probably know people doing some good rescue/foster/support work in your area, so please feel free to share the love and the fluff from your hometown.
In that sharing spirit, if you don't have a pet but want to participate, drop off your best Internet find of an animal .gif or meme or tweet in the comments. The more animal lovers, the merrier :) Speaking of sharing, feel free to share these posts anywhere in the Kinja-verse, because it has been scientifically documented that looking at pictures of cute animals reduces stress. So let's get a squee-liciously sweet peek at our creatures of the day, night and in between!
KK4Bama's Cannoli is here to welcome us to the fluffy zone.
---
Tom.Cruise.Is.Weird's QuiQue sinks his teeth into it.
---
The Fluter- Dawg 'n Pup lurk sleepily into our hearts.
---
Bertolt's Firbank is one with the minkalicious circle of being. Or is it a portal to other dimensions??????
---
Not to be outdone, ParkerPosaholic's Lucy just levitates straight off the bed.
---
Chuckles' wicked Apple eyes Calvin with hellish intent.
---
mwittier threw us a little egg-ucation while Cursive Louise threw us a pose.
---
NowIAmBecomeDeathDestroyerOfWorlds' Ledger is going for the big scares this year…
...while Hurley is dressing up a little more commercial.
---
Agrajag's Gus joins in to let out his inner beast.
---
PumpkinSpies' Mr Toomey chooses his Halloween style via set dressings.

---
And don't forget – it's frightening how many pets are in need of a good home. Check out classically costumed cutie Thumbelina as shared by facw.
---
...and finally a sad goodbye to carlMr's black cat extraordinaire Mr. Watcher, who will be with us in spirit, I'm sure.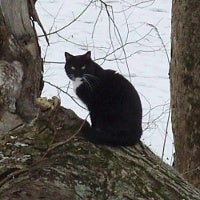 ---
That's it for now, all. But don't pout if your furbaby didn't get picked this time - we put on this little pageant of floof every week. So show us your scary faces, your funny faces, and your esoterically charming faces that only the really cool kids will get, and a happy and safe Halloween to all our glowy-eyed friendly fiends.