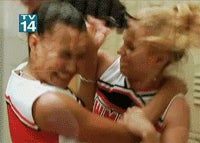 Hello everyone! This is a round-up of everything that happened today, August 8, 2014, and a little bit of yesterday, the day before August 8, 2014.
In honor of World Cat Day that is a .gif of a cat fight.
Snack made an awesome reference and wants to know if you did too.